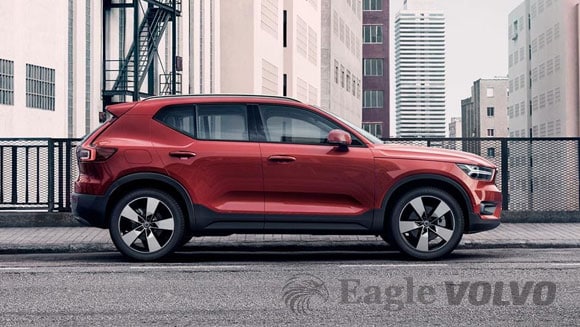 The latest win for small the new Volvo XC40 SUV means the complete line-up of new global Volvo SUVs have each been named Car of the Year in either Europe or North America. Both the large XC90 and mid-size XC60 were awarded the North American Truck/Utility of the Year title in the past two years.
For small families on Long Island looking for the perfect SUV, from
Jamesport to Mattituck
, the XC40 is the ideal choice, whether they are picking up the kids from a soccer game in
Cutchogue
, or dropping them off at school in
Wading River
.
The new small SUV- Volvo XC40 has been named the 2018 European Car of the Year ahead of the Geneva Motor Show in Switzerland. It is the first win of this prestigious award for Volvo Cars.
"Winning this award with our new small SUV - XC40 is perfect timing," said Håkan Samuelsson, president and CEO of Volvo Cars. "Volvo now has three globally available SUVs in its range for the first time. The XC40 will be a strong contributor to further growth, taking us into a new and fast-growing small SUV segment."
The 2018 European Car of the Year award follows other recent recognition for the XC40, including the Car of the Year award by leading UK automotive publication What Car?
The XC40 small SUV sets a new standard in its segment in terms of design, connectivity and safety technology. Early orders in excess of 20,000 cars across Europe and the US indicate that this is an appealing combination for customers. The XC40 roll-out will soon extend to China – the world's biggest car market – where Volvo is expecting similar strong interest.
The XC40 is the first model on Volvo Cars' new compact modular vehicle architecture (CMA), which will underpin all upcoming cars in the 40 Series, including fully electrified vehicles. Co-developed together with Geely, CMA provides the company with the necessary economies of scale for this segment.
The XC40 is also the first Volvo to come with a car-sharing feature, enabled via Volvo's digital key technology and its connected services platform Volvo On Call. XC40 owners can simply share their car with family and friends without having to hand over a physical key.
In another first, the XC40 launched Volvo Cars' new subscription service, Care by Volvo, which offers car access via a monthly flat-fee subscription rather than ownership. Care by Volvo makes having a car as transparent, easy and hassle free as having a phone.
The full line of Volvo SUVs are available for purchase or lease at Eagle Volvo in Riverhead, NY. Schedule a test drive now. Call 888-477-7114